The Operations Team
Schools also look for support on the vital aspects of school operations, keeping pupils and staff safe, efficient, robust and enhancing the learning and work environment. Enlighten Learning has a comprehensive offer through its Operations Team that between them have the following experience:
School Business Leadership of 8 different schools across primary, secondary and special phases in Surrey and London
Chief Operations Officer experience across 3 Trusts
Chief Finance Officer experience across 4 Trusts
Numerous Accounting and Professional qualifications as well as experience delivering programmes and operational reviews to others at LA level
Experience in financial consultancy, induction and training working alongside the LA
Years of school leadership in their areas of expertise in a variety of settings
Proactively engaged with DfE pilots e.g Cyber Security, ensuring that all schools within the Trust have adopted appropriate practice and obtained the Cyber essentials accreditation
The Chief Operations Officer leads on HR and Procurement, the IT and Estates Strategies, and has oversight of Finance, as well as associated functional delivery for the Trust. She was engaged with the working group led by the DfE Improving Estates Management Lead which covered Efficiency & Capability, Strategy and Intelligence, Capital Directorate and Operations and Infrastructure.
We believe that this gives a fantastic range of experience through which we can support schools in different situations to develop and improve the experience of their pupils. We are committed to making our vision a reality and know that through this diverse team schools will find the necessary skills and credible experience to help their pupils flourish.
Jo Hawkins - Chief Operating Officer
Jo started her career with John Lewis in retail management and has now worked as a School Business Leader and Finance Consultant supporting the delivery of both School and Local Authority statutory requirements for 20 years. She has worked as a school leader in all phases from Infant to Secondary, and has taken qualifications to support this delivery such as the DSBM and Certificate in Accounting (Open). She is a firm believer in lifelong learning, is currently CIPFA PQ, and is planning to complete the remaining accounting qualification modules.
Her experience has also included clerking and Governance. In addition to delivering the role of Chief Operations Officer she supports the Executive Headteacher (CEO), and Academy leaders in the areas of risk management, strategic direction, sustainability, service coordination, policy, procedure, process, operational effectiveness and innovation across the business functions. Jo is now planning to undertake the Senior Leaders Master's Degree Apprenticeship for School Business Professionals.

Zoe Lever – Chief Finance Officer
Zoe had a successful career in corporate finance within a global organisation having qualified as an Accountant. After a career break, Zoe joined education as an Academy business Leader and Chief Finance Officer, and undertook this role across a Single Academy Trust and three Multi Academy Trusts (MATs) for 7 years prior to joining Enlighten Learning Trust. Zoe has experience across all educational phases, and in Special Schools. Zoe is focussed on adding value to all elements of Enlighten Learning Trusts delivery, and supporting colleagues across the Trust.
Julie Woodley - Trust Resources Manager
Before starting her career in education Julie qualified as a Chartered Management Accountant working in Commodities. She began working for Esher High School in 2006 in finance and progressed to School Business Lead managing the school's budget and support staff departments. During this time negotiating and monitoring contracts was a key part of the role as well as ensuring the school received value for money.
In her Trust role, Julie supports our schools in ensuring facilities are managed to the best standard and procurement processes provide a way for schools to ensure they are getting the best service both in quality and price. She has previously completed the "Certificate in School Business Management" and is looking forward to increasing her expertise by studying to become a Chartered Institute of Procurement & Supply Corporate Award Practitioner.

Helen Gash - Trust HR Manager
Helen has a background in customer service and HR. She has had a varied career, from escorting groups of tourists through Europe and the Soviet Union through selling educational tours to American High School students to working as a Train Manager for Eurostar. She values the life experiences that education can open up to children and wholeheartedly supports the ELT vision.
It was whilst working for Eurostar that Helen started working in HR, and she has not looked back. She has been a member of the CIPD since 1994. In 2014, she started working in education, in a variety of settings and since 2019 she has been the HR Manager for the Trust, working with the leadership teams and the staff across the organisation. Her role is to support the schools in delivering high quality staffing and to ensure compliance with our statutory obligations.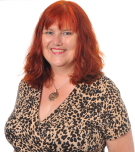 Lucy Owen - Trust Marketing and GDPR Manager
Lucy has enjoyed a career in marketing and communications for more than 25 years both on the agency and client side. Her core purpose at ELT is to provide effective and results driven marketing strategy and management across the academy trust and it's schools. As a member of the Trust's strategic operational team, she contributes to the leadership, management and monitoring of Trust development working alongside the both the Executive Headteacher and the Chief Operations Officer.
Lucy leads on providing a GDPR service to the Trust, advising on all associated issues and administering all related matters to support the smooth running of the Trust. Having completed both a Foundation and Practitioners Certified Course in GDPR, she works alongside the Chief Operating Officer on all aspects of Data Protection.

Bryan Smith – Trust Estate Safety Manager
Bryan has 28 years experience managing retail stores specialising in supporting the building sector, and the associated legislative requirements and training associated with managing public buildings. During this period he also worked in specialist retailers providing support and H&S advice to Schools. Bryan is NEBOSH General Certificate qualified and keeps up to date with professional developments through engagement with IOSH. Bryan is the competent person for the Trust and forms the primary link with Citation, who are the company providing the Health and Safety and Risk E-Learning required to meet statutory requirements as an employer and competent person support services.
Bryan works with the Leadership and Estates teams across the Trust to ensure that they can meet their Estates' compliance responsibilities.

Governance
Alison Morgan - Lead Governance Professional
Alison worked in commercial banking and the global banking regulatory sector, before moving into education 7 years ago. She also brings to the role 8 years' experience as a school governor. Since taking up the role of Company Secretary and Clerk, Alison has completed Veale Wasbrough Vizards LLP's Company Secretarial Course for Academies and the NCTL Clerks Development Programme.